This fabulous collection of the earliest and most elegant Self Winding Clock Company regulators has been assembled by a very diligent and discerning collector. The majority of these American made self winding electric clocks were made by the Self Winding Clock Company but the collection includes clocks made by the New York Standard Watch Co., the American Clock Co., the Keyless Clock Co., the Imperial Clock Co. and others
The SWCC and the E. Howard Clock Co. had a close business relationship. The largest and most elegant cases were made by E. Howard for the SWCC.  SWCC's finest movements, the Gerry gravity and style "B" movements, were also made for them by E. Howard. Click on picture to enlarge.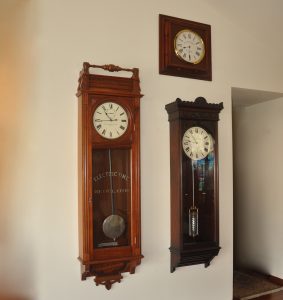 This collector and restorer of electro-mechanical music machines is like many collectors.  He has numerous other collecting interests and those certainly include clocks. The clocks are large clocks (very large clocks) and small clocks, electric clocks and mechanical clocks. The collection is set in a spectacular building that is both a restoration shop and comfortable home. Click on picture to enlarge.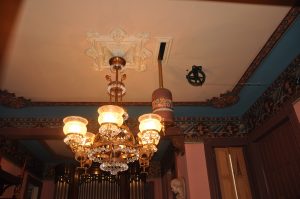 A visit to the Reliquary. This is a collection of fine antique clocks, specialty lighting, sculptures and period mechanical musical instruments.  Electro-mechanical clocks make up a large portion of the clock collection.    Click on picture to enlarge.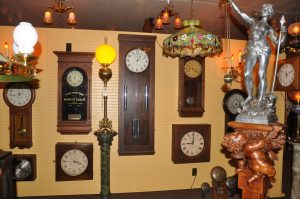 The 2008 Ward Francillon Time Symposium on Electric Horology was held in Springfield, IL.  At the symposium was the finest display           of Sangamo clocks possibly ever assembled.  A lecture on the                   Sangamo Company and their clocks was presented by noted                                                  Sangamo expert Les McAlister.                                                 The following photos were taken at the display.             Comprehensive  Sangamo information is available at –     http://sangamoclocks.com/
Click on the photo to enlarge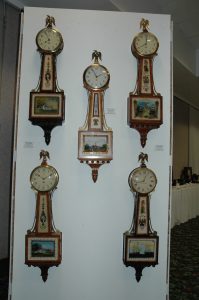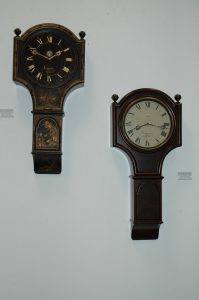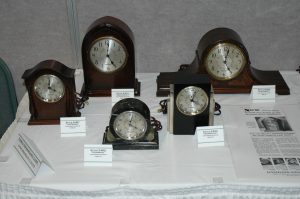 Below are pictures of the collection of a long time electro-mechanical clock collector. All of the clocks are wired and fully operational. Most of the slave clocks are not operating to reduce the noise.                  Click on picture to enlarge.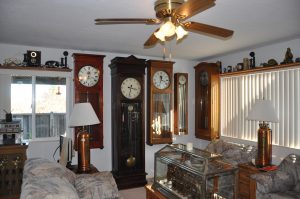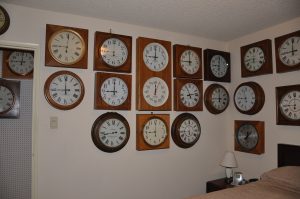 Below are pictures of electro-mechanical clocks from the collection of a cabinet-maker. Notice the exquisite condition of the cases.      Click on picture to enlarge.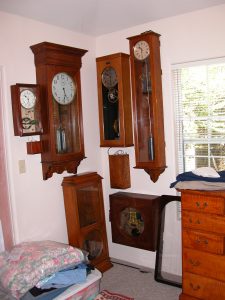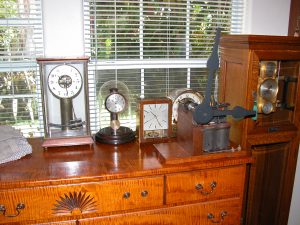 The following pictures are examples of how a collector combines his passion for both electro-mechanical clocks and automobiles. The connection goes even farther, to a collection of electro-mechanical self winding clocks from automobiles.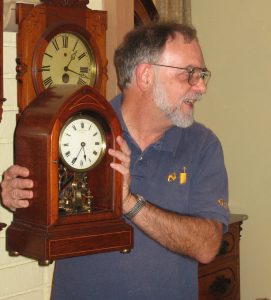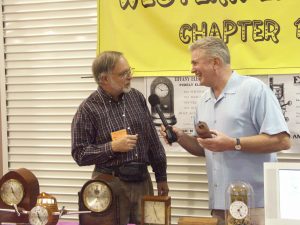 Pictures from another electrics collector. The only thing that slows him down is that he has run out of wall space.
An elegant collection of primarily electric clocks. This what many years of collecting can look like.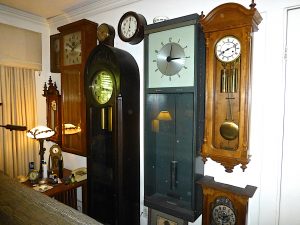 An electro-mechanical clock collector with a basement has the luxury of running unobtrusive wires from inside the walls, along the ceiling and then to a central terminal. All clocks operate but no wires show.